Professional Teeth Whitening Brisbane
If you want to have a great smile and feel confident in any social situations then take advantage of our cosmetic teeth whitening services with PureSmile clinic partners in Brisbane. Book an appointment now for a peroxide-free or 6% Hydrogen Peroxide treatment and have the best smile you ever had. Don't hide your smile anymore, our affordable teeth whitening prices are available for anyone who wants to improve their look and dental health. View our locations in Brisbane below.
PureSmile Teeth Whitening Clinics In Brisbane
Garden City
Shop 2317 Westfield Garden City Corner Logan Rd &, Kessels Rd, Upper Mount Gravatt QLD 4122 – Located Level 2 next to Mecca & Target
Indooroopilly
Shop 1003 Indooroopilly Shopping Centre, 322 Moggill Road, Indooroopilly QLD 4068
Maroochydore
Shop 249a, Sunshine Plaza, 154-164 Horton Parade, Maroochydore QLD 4558
New Farm
Shop 2, 884 Brunswick Street, New Farm 4005 (Corner of Merthyr Road and Brunswick Street)
North Lakes
Westfield North Lakes, Shop 1254A/1 N Lakes Dr, North Lakes QLD 4509
Stanthorpe
Shop F, Target Building, 42 Maryland St, Stanthorpe QLD 4380
Yeppoon
Shop 3, Echelon Building, 3a Anzac Parade, QLD 4703

Why Choose PureSmile For Your Teeth Whitening Brisbane?
We have extensive experience in providing professional teeth whitening treatment in Brisbane, with our partners being trustworthy and renowned cosmetic clinics in the area.
We offer one of the lowest cosmetic teeth whitening prices in Brisbane, starting from $143.20. If you prefer to consult a dentist, we are now offering dental care with our dentist teeth whitening packages. Our dentists are all qualified specialists with years of experience in carrying out in-chair whitening  in Brisbane
We can whiten your teeth in less than 1 hour! Our teeth whitening system delivers instant and long-lasting results!
We make our customers feel assured. We use the latest technology and PEROXIDE FREE teeth whitening products. All of our treatments come with after-care advice to guarantee the best result for you. We also have a wide range of take home teeth whitening products (whitening trays, whitening gel, or the whole whitening kit, etc)  for those who want to maintain their brighter smile at a lower cost. Nowadays, many people opt for at-home whitening because of its comfort, flexibility, and low cost. However, please remember that take-home teeth whitening treatments take longer to achieve the desired results than professional in-chair teeth whitening treatments, which makes them not a good fit for those who are in urgent need of whitening their teeth.
Teeth Whitening Options We Are Offering In Brisbane
Cosmetic Teeth Whitening Treatment
We are offering three cosmetic teeth whitening treatments in Brisbane: Executive Treatment, Platinum Treatment, and Signature Treatment. All of them come with full initial consultation with our teeth whitening specialists in Brisbane, in order to identify any possible risks before proceeding with whitening your teeth. Depending upon your teeth whitening budget and your teeth's condition, we will recommend a treatment that is tailored to your needs and saves your teeth whitening cost best!
Please keep in mind that all online bookings will get a 20% discount. Make an appointment and whiten your teeth today!
Dentist Teeth Whitening Treatment
If you are due for a dental checkup at a dental clinic and looking for the reassurance of treatment by a qualified dentist, our dentist teeth whitening packages are exactly the whitening options you need. We understand that some of you might have concerns about gum health and enamel when whitening teeth, so dentist advice and treatments are essential. We will discuss with you any side effects that can occur and find an appropriate solution for you. There is no need to look for any expensive dental clinic whose teeth whitening treatments might cost you an arm and a leg. We take pride in delivering the best value-for-money teeth whitening services in Brisbane.
Which is better: In Chair Vs Take-Home Whitening?
Full chair teeth whitening procedure involves an activation spray, applying a special customized whitening gel on your teeth using a dental-grade LED light. You will be sitting in the chair for 45-60 minutes. It also produces immediate results after the session.
On the other hand, take-home whitening is simpler but may take longer to see the results, sometimes a week after application. It also needs to be completed over a longer period.
For best results, we recommend having an in-chair treatment every 6-8 months followed by at-home whitening treatment daily or weekly.
Before vs After Treatment at PureSmile Brisbane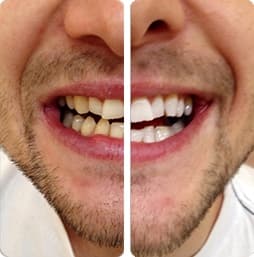 All online bookings will get a 20% discount. 
Some Frequently Asked Questions On Teeth Whitening
How much does teeth whitening cost in Brisbane?
Teeth whitening can cost up to $800 across Brisbane, depending on which type of treatment you choose. Our most recommended teeth whitening option is cosmetic laser teeth whitening, which is not as expensive as dentist packages but still delivers excellent results in a short time thanks to using advanced LED light technology.
Is teeth whitening safe?
Our teeth whitening process is very gentle on your teeth as we only use safe accredited products with peroxide-free or 6% Hydrogen Peroxide. Therefore, the process is almost pain-free with no major side effects and no tooth sensitivity post treatment.
Who should not whiten their teeth?
We do not recommend teeth whitening for pregnant or breastfeeding women and children under the age of 14.
How many shades whiter after the treatment?
Although the results vary depending upon each individual's physiology, on average, we can make your teeth 6-8 shades whiter in just one appointment. The best achievable result is 11 shades whiter.
Why should I whiten my teeth?
It is a personal decision but you will enjoy an improved appearance as well as more confidence.
Are there any side effects?
There may be a slight increase in teeth sensitivity after the treatment but there are no severe side effects.
Does teeth whitening help with smoking stains?
Teeth stains due to smoking are more difficult to remove, but PureSmile's teeth whitening options are effective to most smoking stains.
How long will the whitening results last?
Most people like to touch up their whitening every 6-9 months. However, you definitely can maintain the result for longer if you take care of your teeth well at home and do good oral hygiene with specialised take-home teeth whitening products and avoid bad habits such as smoking, drinking red wine, coffee, tea and sugary drinks. These can make your teeth stained and discoloured more quickly.
For more questions, visit our FAQs page or call us on 1300 858 199. We are happy to address any concerns you might have.