Best Teeth Whitening Canberra
Apply for fast, effective and affordable teeth whitening services at our PureSmile clinic partners in Canberra. We provide peroxide-free or 6% Hydrogen Peroxide treatments that guarantee to help you get the greatest smile you have ever had. In just one session we can make sure your teeth will be as white and healthy as possible for a long time. Refresh your smile and repair stained teeth with PureSmile treatment - the leader in teeth whitening technology today!
PureSmile Teeth Whitening Clinic in Canberra
Bailey's Corner – Canberra
Suite 7, Level 1, Bailey's Corner, 131-157, London Cct, Canberra ACT 2601
Gungahlin – Canberra
Level 1, 83 Gozzard Street Gungahlin ACT 2912
---
Instant teeth whitening
Use the state-of-the-art technology
Our clinic operating hours vary according to the location

Why choose PureSmile teeth whitening Canberra?
We have a team of experienced and highly qualified teeth whitening specialists in Canberra, with our clinic partner being a reputed and highly trusted cosmetic clinic in the area
Looking for teeth whitening Canberra deals? We can help you save a lot on your teeth whitening Canberra cost by offering a 20% discount for all online bookings through our website. Our treatments are very affordable – starting at only $143.20.
Our teeth whitening process is fast and effective, as we can whiten your teeth in less than 1 hour. So it is highly recommended for those who are busy and have limited time for tooth whitening.
We offer both in chair laser teeth whitening and at home teeth whitening. If you prefer to whiten your teeth at home, which however takes longer to get the result, check out our exclusive collection of high-quality take home teeth whitening products. We are selling teeth whitening gel, custom made whitening trays, whitening kits, enamel booster, whitening pen, etc.
We are frequently updated with the latest technology and only use safe accredited products during our teeth whitening procedure. We try to remove your stress and concerns as much as possible by always following up with customers and giving your after care advice after every treatment.
Our teeth whitening services in Canberra
Depending on your budget and needs, you can choose from our 3 options of cosmetic teeth whitening services in Canberra: Executive treatment, Signature treatment and Platinum treatment. Please feel assured that all of them come with a thorough initial check-up and consultation carried out by our highly experienced experts. We take your dental health into consideration very seriously to ensure that our teeth whitening solution is safe for you.
Choose this option if you are due for a dental checkup and looking for the reassurance of treatment by a qualified dentist. The dentist teeth whitening treatments are carried out under the supervision of our dentists, making sure your teeth, gum and enamel are always well protected during the treatment.
Most of the dentist teeth whitening services are very expensive – $650 or more. However, our dentist packages start at as low as $499.
Photos of before vs after our teeth whitening treatments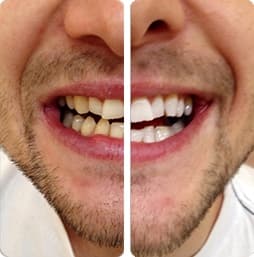 Book your teeth whitening session in Canberra with PureSmile today!
Looking for a cheap and comprehensive teeth whitening service in Canberra? Get in touch with us right now.
Not sure which treatment suits you best? Don't worry. Our experienced and dedicated teeth whitening experts in Canberra are always keen to help and give you consultation. Book an appointment online now and save 20% on all teeth whitening treatments at PureSmile Canberra.