Professional Teeth Whitening Melbourne
Our PureSmile clinic partners in Melbourne offer professional teeth whitening treatments to help you achieve whiter teeth and the brighter smile you have always desired. We provide professional services & use the quality materials to make sure your teeth will be clean, healthy and white in as little as just one appointment with any PureSmile partner clinics. A great smile goes a long way to boost your confidence and give you a great look, so take advantage of our affordable in chair teeth whitening services now. You can choose a peroxide-free teeth whitening treatment or one that has 6% Hydrogen Peroxide for best results. View our teeth whitening Melbourne CBD and surrounding locations below.
---
---
Fast in chair teeth whitening treatment
100% safe to teeth and gums
Use the state-of-the-art teeth whitening technology
Our clinic operating hours vary according to the location.

The Best Teeth Whitening Treatments In Melbourne
PureSmile offers the best teeth whitening treatments across Melbourne. We also offer products such as whitening pens & whitening gel to whiten teeth at home and give you a whiter smile that lasts! Be sure to check our online store to view all our tooth whitening products you can take home for convenience. Our in chair whitening process is easy and effective, with a number of options available. Our most popular teeth whitening Melbourne service is the 60 min 6% Hydrogen Peroxide treatment. This treatment has been used on all Miss Universe Australia contestants throughout Australia and includes a full consultation. Our specialist cosmetic teeth whitening Melbourne packages are carried out by fully trained and experienced oral health professionals.
Which is better: In Chair Vs Take-Home Whitening?
What are the main differences and pros & cons of these whitening options?
The full in chair teeth whitening procedure is listed below. Basically, it involves an activation spray, applying special customised whitening gel on your teeth, using a dental grade LED light, and then sitting in the chair for 45-60 minutes. In chair teeth whitening produces immediate results. Meanwhile, take home whitening is a little more simple overall but can take a  longer period to get results (often weeks) and needs to be complete over a longer period of time. Our recommendation for best results is to have an in chair treatment every 6-8 months followed by an at home whitening treatment daily/weekly.
In-Chair Whitening Process
First of all one of our technicians will assess your initial shade.
Our activation spray is then applied to your teeth with a sponge brush. This pre-treatment will help with the activation of the whitening gel & will help to prepare your teeth for the teeth whitening procedure.
Your mouth tray will then be filled with our custom formulated gel. All of our technicians undergo extensive training so the gel is applied inside your tray correctly for maximum whitening results.
We then apply our dental grade LED light which will activate the process while you just sit back & relax.
To achieve best results possible, we repeat this process every 15 minutes to get multiple activation of the gel with the LED in your treatment.
How Much Does PureSmile Teeth Whitening Cost?
Teeth whitening cost varies depending on the type of treatment you will get: in-chair cosmetic, at home or dentist. Our in chair whitening treatment starts at as low at $143.20, as all online bookings on the website will get a 20% discount. This is an affordable price compared with other teeth whitening services in Melbourne. If you are on a tight budget for teeth whitening, we also offer take-home kits that consist of the best-in-class whitening products. Check them out here.
How Many Shades Whiter Can My Teeth Get?
Whitening treatments have varying results and mainly depend on the person's physiology, what treatment they chose and how they take care of their teeth after the initial whitening treatment. Our teeth whitening system is clinically proved to make your teeth 6-8 shades whiter. Some customers even achieve the result of 11 shades whiter. It's also important to take care of your teeth and gums after the treatment, seeing a dentist every 6-12 months. Having your teeth whitened & cleaned by a dentist not only helps keep your great smile with whiter teeth, but it can also help prevent future decay and gum disease. Be sure to avoid smoking, coffee, tea and red wine to avoid losing your whitening results.
Before vs After Treatment at PureSmile Melbourne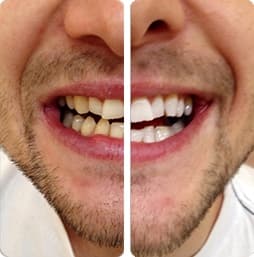 All online bookings will get a 20% discount. 
Book an appointment with us and whiten your teeth in less than one hour at PureSmile to save your teeth whitening Melbourne cost today!
Frequently Asked Questions on Teeth Whitening
Are there any side effects?
No. There are zero side effects with teeth whitening treatment at PureSmile as all the products we use are 100% safe and accredited.
Is it worth it to get your teeth professionally whitened?
Yes. It's good value for money. Professional teeth whitening is safe and delivers great results in 60 minutes or less. The whitening procedures are carried out under the supervision of experienced and well-trained specialists, who can give you good advice and follow up with you after the treatment. Meanwhile, if you try to whiten your teeth at home with natural products, it might take very long to get the expected results, and you won't receive support and consultation from qualified technicians.
Can yellow teeth be whitened?
Yes. Our treatments can whiten your teeth to their genetic natural whiteness.
Who shouldn't do teeth whitening?
We do not recommend professional teeth whitening to pregnant or breastfeeding mothers and children who are under 14 years old.
How long can teeth whitening results last?
This can vary depending on your lifestyle and how you take care of your teeth at home. The result can be maintained for up to 2 years. Get in touch with us and our consultants can give you a comprehensive guide on good oral hygiene and how to take care of your teeth properly. You can also contact us if you would like to touch up your teeth whitening, which most people do every 6-9 months.
Is teeth whitening effective for smoking stain removal?
Yes. Our technicians are very experienced with fixing stains from smoking.